Wheelie™ Tool Toter™ & Comfy Cushion™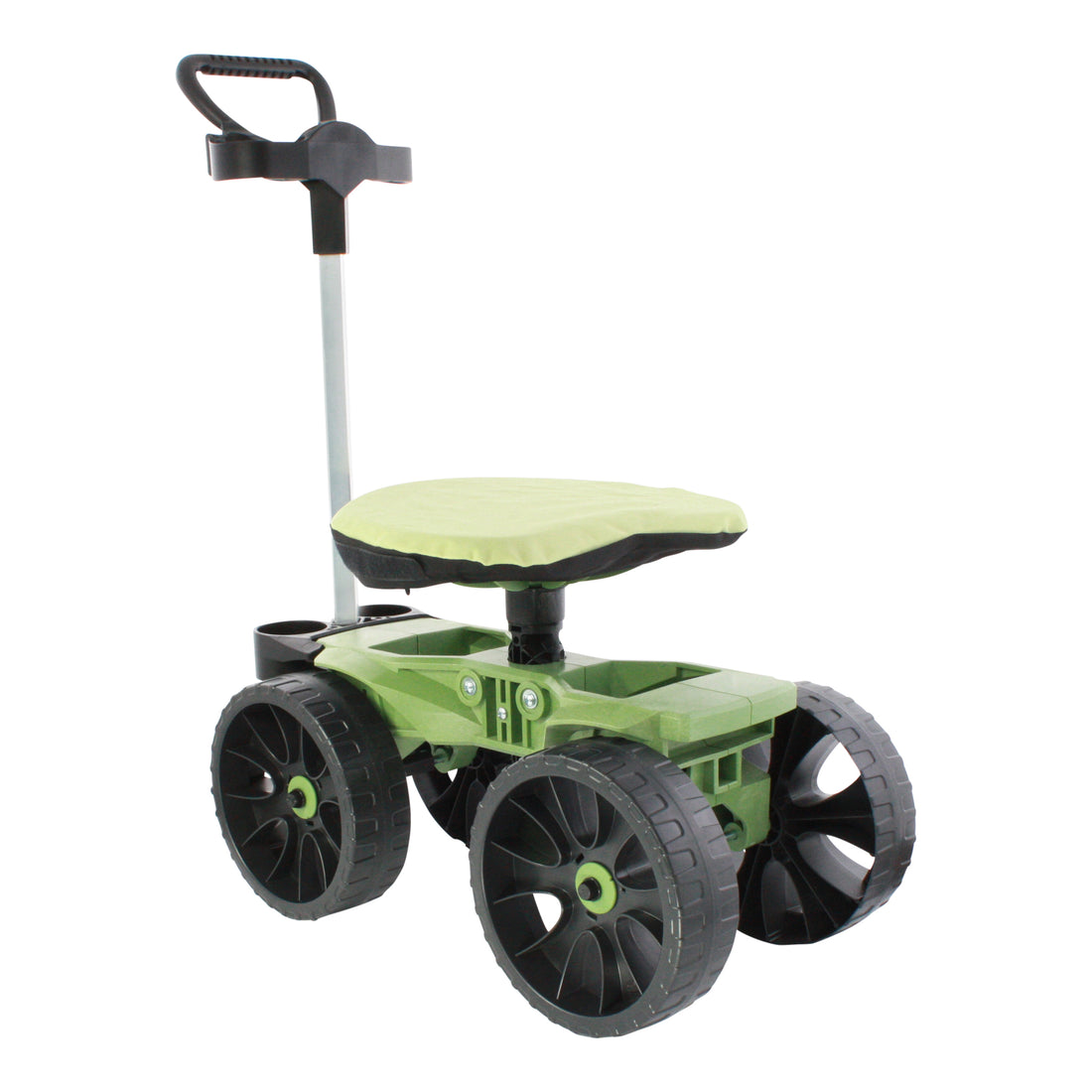 Wheelie™ Tool Toter™ & Comfy Cushion™
Share
COMFY CUSHION WITH COVER

ROLLING GARDEN CART WITH SEAT

TOOL TOTER PUSH or PULL HANDLE

HEIGHT ADUSTABLE SWIVEL SEAT
240 LB WEIGHT CAPACITY
Wheelie rolling garden seat on wheels is a premium American made rolling garden cart with seat that is a excellent addition to your lawn and garden tools. The garden seat on wheels provides the convenience of a tool rack with the comfort of a garden stool. Combine your Wheelie a vertex yard cart, Lawn cart Wheelbarrow, wagon and a sitting kneeler bench. Replaces Vertex Easy Up garden carts seat on wheels with never flat tires.
Garden cart with seat and tool holder stores, organizes and mobilizes a few of your favorite gardening tools. The Tool Toter handle on the yard and garden cart creates a storage rack on wheels that can hold 5 gallon and other standard buckets on the handle. These premium garden seats on rolling wheels assist you better than a wheelbarrow, garden wagon or other less functional yard or garden cart. Rolling garden scooter seat on wheels for garden scooting.
Height adjustable set with cushion enhances the comfort of the wheelie scoot, the seat cushion and cover spray off for easy clean up and make sitting on your garden seat on wheels more comfortable on the back and body
Heavy duty rolling garden cart with comfort contour seat supports up to 240 LB. Seat adjustment uses a bolt and wing nut in 1 inch increments from 15 to 18 inches. Comfort swivel seat spins and rotates 360 degrees so you can move and adjust your position as you work or garden on the stool chair. Add a kneeler or kneeler bench, garden rocker or other vertex sitting and kneeling product with your Wheelie Scoot and you have the most comfortable working seats, chore seats and rolling garden carts.
Garden tool cart prays off for easy clean up to assure a lifetime of use and durability. Rolling seat body is molded of premium polymer material and durable additive to enhance durability of the Wheelie Scoot rolling garden garage seat on wheels. Compare TheXceptional Wheelie to imports and its clearly the best rolling work utility seat. This decorative seat is good for older elderly and young. Garden cart scooter seat rolls to garden to help dig, plant, and do gardening.
10 inch airless no flat tires never need air and are large enough wheels to roll over some of the roughest of terrain in the yard, garden, lawns and more. The Wheelie Scoot is a premium American made rolling garden cart with seat that is a excellent addition to your lawn and garden tools. Add it to your wagon or wheelbarrow or other Vertex Made gardeners gardening cart or scoot. Wheelie is great with rolling, yard cart, Lawn cart Wheelbarrow, wagon and other carts on wheels or rack.
Made in USA, TheXceptional is made exclusively by Vertex Products. Vertex has been designing, manufacturing and distributing lawn and garden products since 1997. Our products are wholly Made In USA using US manufacturing and a complete USA Supply Chain. Vertex Products is the originator of Garden Rocker, Premium Easy Up garden Seats, The Gardeners ToolBox on Wheels and the Garden Rocker Kneeler Bench.
Model: EX560
Weight Capacity: 240 lb
Product Weight: 16.5 lb
Dimensions: 29 in x 14 in x 35 in
Assembly Required: Yes. Requires Screwdriver, Wrench & Hammer
Country of Origin: Made In USA
Manufacturer: Vertex Products
UPC Code: 850025258241