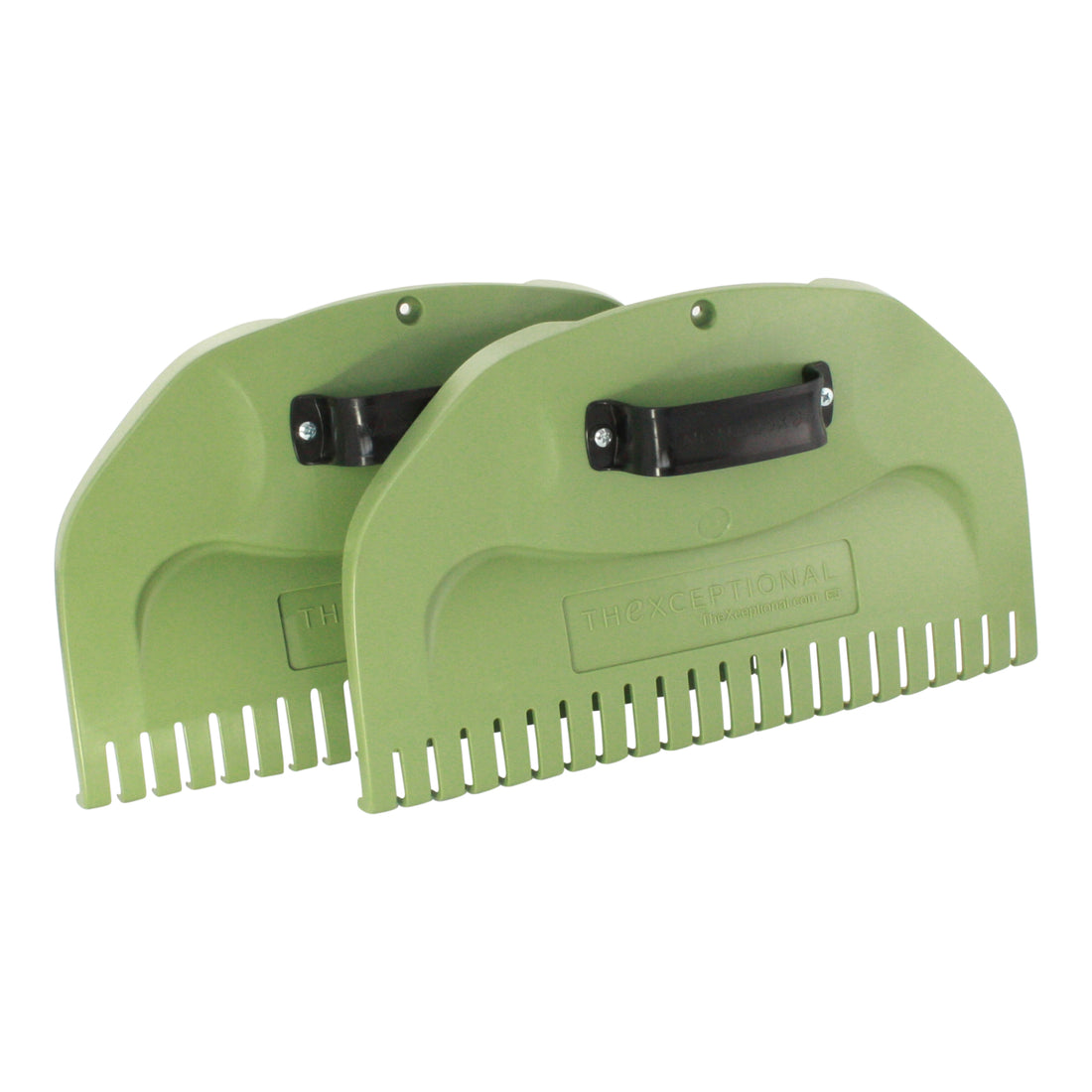 Share
LARGE COLLECTION VOLUME with the 19 inch wide rake style head. Comfortable design for easy pick up and grab with these grabbing bear paw style grabbers. Designed for easy collecting of leaves, grass, twigs, clippings and other common debris clean up in the yard and garden. Oversize leaf rake: a great tool for scooping up piles of leaves,plant clippings,yard debris,etc. The closed design makes yard cleanup much easier and faster.
PICK UP LEAVES FASTER with Pick-Up Paws. Pick-Up Paw leaf scoops do a really good job for smaller pick-up jobs, perfect scooping up wet and dry leaves, pine needles, twigs, and other garden debris in your yard. Closed design of this garden tool provides a barrier from stinging nettles rosebushes and to get the job done fast for grass or leaves wet or dry, rake with minimal fuss or spills. Protects the hands from bugs and slimy leaves and debris.
100% AMERICAN MADE by Vertex Products. Our leaf claw scoops are comfortable, durable and easy to grab with a lightweight and ergonomic design to make leaf pick up comfortable on the hands. You can grasp large amounts of leaves and neatly deposit them into a bag easily. These oversized rake hands can help in the yard, lawn or garden for spreading mulch, feeding leaf shredders or helping with pet mess clean ups.
LIGHTWEIGHT AND DURABLE Leaf scoops are light weight, extra-large, featuring grabber claws that make it easy to pick up a variety of yard debris. You can support your grip by using the backs of your wrists and pressing against the allotted plastic braces. They're made with UV and crack-resistant plastic material for longevity. The leaf claws easily stack together and have a wall peg hole to easily store and stay put in your garden shed or garage.
OVERSIZED PICK-UP PAWS WITH FUNCTIONAL RAKE TINES: The functional rake tines help you rake and clean up those pesky last pieces of grass, lawn, leaves, twigs, clipping or debris. CLEANER AND EASIER METHOD to avoid touching pet waste, yard mold and sharp or pointed items when cleaning up your yard. Strong and durable for use by professional landscapers , lawn care professionals and grounds keepers.
Model: EX700
Weight Capacity: 10 lb
Product Weight: 2.25 lb
Dimensions: 3.25 in x 19 in x 13 in
Assembly Required: Yes. Requires Screwdriver.
Country of Origin: Made In USA
Manufacturer: Vertex Products
UPC Code: 850025258708